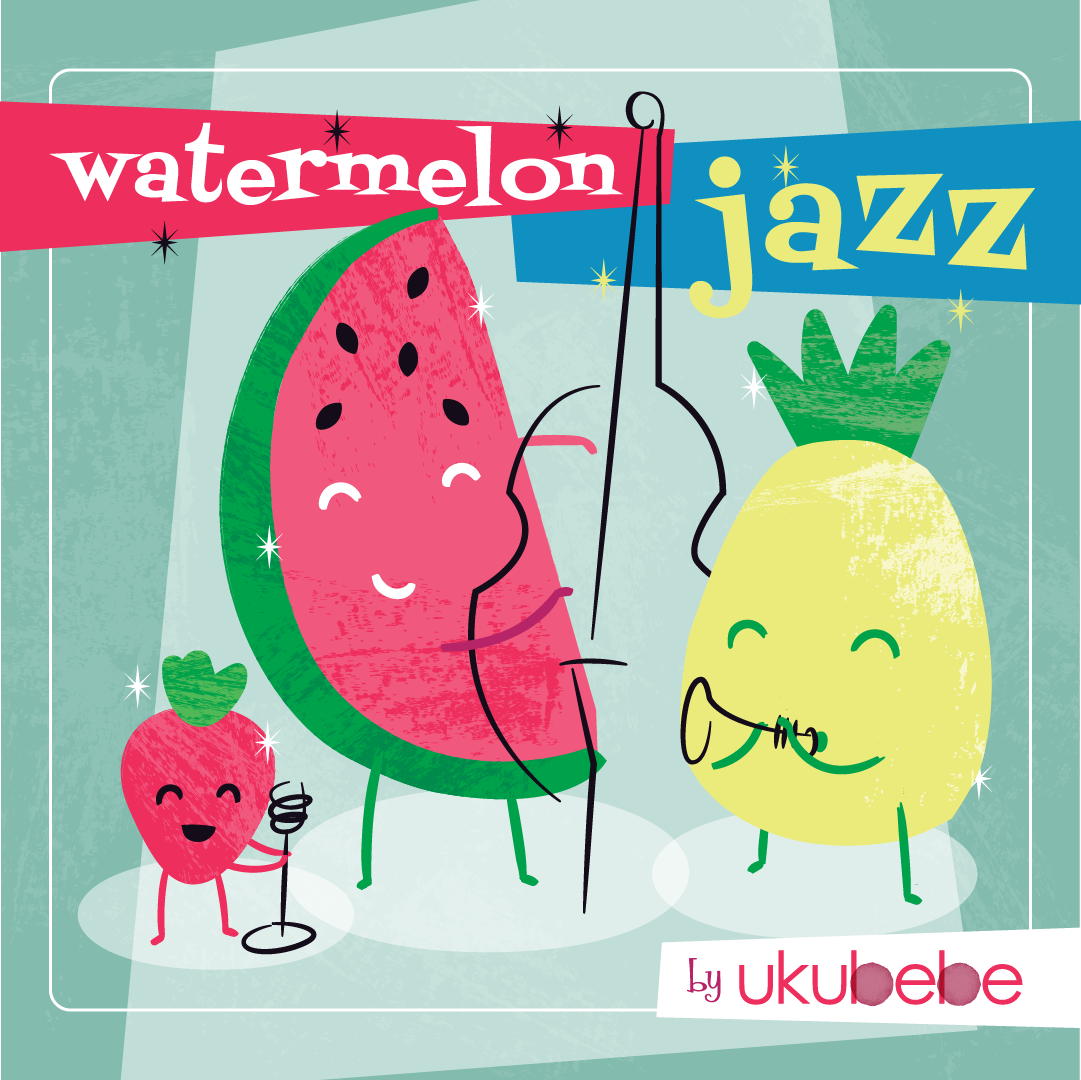 WATERMELON JAZZ
The story behind the album
The long-awaited second album from Ukubebe Music, Watermelon Jazz, has been released, with twelve new songs the whole family will love.
Musicians & Singers

Jo Steel,
Composer
Co-producer
Ukulele &
Vocals

Misha Mullov-Abbado
Arrangements
Co-producer,
Editing & Mixing Engineer (London sessions)
Double Bass &
Bass Guitar

Cara Frank
Vocals

Edward De Simone
Vocals

Alice Zawadzki
Vocals

Tom Smith
Saxophone
James Davison
Trumpet & Flugelhorn

Yusuf Narçin
Trombone & Bass Trombone

Anthony Friend
Clarinet

Bridget O'Donnell
Violin

Deni Teo
Cello

Liam Dunachi
Piano, Fender Rhodes,
& Organ

Nick Goodwin
Acoustic & Electric
Guitars

Cosmo Sheldrake
Banjo

Scott Chapman
Drums & Percussion
Album Credits
*Music and Lyrics by Jo Steel
Arrangements by Misha Mullov-Abbado
Co-produced by Jo Steel & Misha Mullov-Abbado
Edited and mixed by Misha Mullov-Abbado
Mastered by Donal Whelan at Hafod Mastering, Wales
Vocals recorded by Josh Wermut at XO Studios, Sydney
All instruments recorded & engineered by Misha Mullov-Abbado, London
*Apart from two traditional tunes:
Track 11. Tune of Lil' Liza Jane; and
Track 12. Ca' the Yows (Scottish folk tune)
Performed by
Vocals: Jo Steel (tracks 2, 3, 5, 6, 8, 10,11 & 12);
Cara Frank (tracks 1 & 4);
Edward De Simone (tracks 7 & 12);
Alice Zawadzki (track 9)
Children's vocal group track 11: Olive Miller (14),
Tasman Boswell (8),
Saskia Boswell (12),
Victoria Slocombe (4), Alice Render (4),
plus Jo Steel and Jessica O'Donnell
Saxophones: Tom Smith
Trumpet & Flugelhorn: James Davison
Trombone & Bass Trombone: Yusuf Narçin
Clarinet: Anthony Friend
Violin: Bridget O'Donnell
Cello: Deni Teo
Piano, Fender Rhodes & Organ: Liam Dunachie
Acoustic & Electric Guitars: Nick Goodwin
Banjo: Cosmo Sheldrake
Ukulele: Jo Steel
Double Bass & Bass Guitar: Misha Mullov-Abbado
Drums & Percussion: Scott Chapman
Album artwork by Katherine Hall at Design & Opinion
Released October 1st 2021
© All rights reserved
Intro
This album will find a happy place in the home of parents, grandparents, musicians, educators and people everywhere who want to enjoy great music with young children.
The first COVID 19 lockdown brought some unexpected benefits for Ukubebe Music director Jo Steel — lots of time outside of teaching to work on new music. With the purpose of supporting and uplifting families through the COVID era, this collection was lovingly written, arranged and performed to inspire children with the great sounds of jazz.
Collaborators
Watermelon Jazz is a collection of original songs for young children, written by Ukubebe Music founder and educator Jo Steel, and arranged by Misha Mullov-Abbado.
Ukubebe Music is a Sydney based early childhood music and movement program, where families can enjoy quality-learning experiences, including Jo's original music.
Misha Mullov-Abbado, an award-winning UK jazz double bassist, composer and bandleader, works in London's thriving jazz scene, and his music features regularly on BBC Radio 3.
Brief Description: Album + Singles
Jazz music for children — authentic, vibrant, playful and uplifting — that will inspire anyone listening to dance around the room.
Performed to the highest standard by professional musicians, these quality songs challenge the notion that children's music should be over-simplified, repetitive and of a limited palette. Instead, this album offers a rich musical experience introducing beautiful jazz sounds the whole family can enjoy.
The songs are about children, for children, including big band, soul-jazz and traditional jazz. There are also some beautifully sung action songs and lullabies, and a fun country song. Watermelon Jazz includes singles Baby-Boo, Toddler, and It's Easy to be Kind.
The Australian Bushfire Benefit Concert
Jo Steel and Misha Mullov-Abbado met in London in February 2020, at the Australian Bushfire Benefit Concert, an event co-founded by Jo's London-based daughter, violinist Bridget O'Donnell.
Bridget had been holidaying in Australia during the devastating Black Summer of 2020, when the fires impacted her family in Batemans Bay, on the NSW South Coast.
Returning to London, Bridget wanted to use her connections to help the bushfire relief effort back home. The Australian Bushfire Benefit Concert was the result of Bridget's collaboration with fellow Australian musician and ex-pat, Lotte Betts-Dean, and was supported by wonderful Australian musicians in London. The concert program included Misha's arrangement of I am Australian for orchestra and choir, the stand out feature and concert finale.
COVID-19 Lockdown
Jo returned to Sydney after the benefit concert, just as the first COVID-19 cases were seen in Australia. The impact of Sydney's first lockdown affect ed many, and acutely impact ed families at home with young children. Trying to stay positive through Australia's run of drought, bushfires, and now the COVID-19 pandemic was proving a challenge for everyone.
Concerned for the well-being and mental health of the Ukubebe community, Jo saw that music could provide an avenue of connection, relief and joy for families locked down at home.
Beauty has emerged from the darkness and suffering. The shared experience of difficult times has connected individuals and families, and brought the world a little closer. Collectively, musicians and artists have been forced to slow down, pause and reflect. They are finding the gumption to create music from a deep place of introspection and wonder, with a renewed desire to use their craft to make the world a better place.
A new album for children — jazz
Understanding the transformative power of music, Jo wanted to create something for the whole family to enjoy. Jazz is known to reduce negative emotions and evoke happy feelings with its swing, syncopation and creative freedom. The idea that jazz can bring joy during hard times is not new; as Jo reflected on the events of the 1918 Spanish Flu epidemic and the similarities today, she observed, 'You can't be sad, and sing and dance at the same time!'
Jo spent the winter school holidays of 2020 writing songs. She emerged from her music room at home with a feeling of excitement, sensing that something amazing had resulted from her lockdown experience, something with an enduring and timeless quality: an album of jazz for young children.
Collaboration
Embracing their shared understanding of the value of quality music for young children, Jo and Misha have enjoyed their collaboration of educational and musical expressions. Jo's inspiration was her everyday relationship with young children and their families. Misha has brought to life Jo's songs with beautiful jazz arrangements, created with sensitivity and respect for young listeners, while being true to his creative brilliance, and drawing on his depth of experience and knowledge.
Artists
This album features some very special guest musicians and singers. With piano, saxophone, trumpet, guitar, bass and more, this music has been performed and recorded by professional musicians whose output spans many genres, including swing, traditional jazz, blues, classical, Latin American, funk and soul.
Featuring a number of vocalists, these songs showcase the talent of Ukubebe Music teachers and other professionals who value quality music for young children. Cara Frank, Ukubebe Music teacher, brings joy and energy to the title track, Watermelon Jazz, and the playful song, Boxes. London based singer and jazz musician, Alice Zawadzki, sings from the heart the lullaby, My little Baby. Edward De Simone brings an exceptional velvet aesthetic to the action song, Dizzy Wizzy, and the reflective, dual-vocal, Seasons' Child.
Jo Steel sings ABC what you mean to me, Baby-Boo, Toddler, It's Easy to be Kind, Goodnight Teddy, Places You'll go, Sing Together, and Seasons' Child. A group song comprising children of mixed ages perform Sing Together.
The musicians are London-based and include Bridget O'Donnell on violin, and the amazing talent of many musicians from various bands Misha Mullov-Abbado plays with.
Final Statement
It is Jo Steel's dream that her second album Watermelon Jazz, will touch the lives of families with young children: that they will sing and dance together with joy, be uplifted and inspired in a shared love of fabulous music and the great sounds of jazz.